Home
The Comic Stop is now open to the public--our temporary store hours:

TUESDAY 11am-4pm

WEDNESDAY 11am-6pm
THURSDAY 11am-4pm

FRIDAY 11am-4pm
SATURDAY 11am-4pm
Following the reopening guidelines in Massachusetts we ask all customers to wear a mask when inside the store & practice safe social distancing. Hand sanitizer will be provided for customers to use when entering the store--thank you for your help in keeping everyone safe.
We will still be offering curbside pickup, mail shipment & doorstep delivery for local customers. Feel free to call us at (617) 926-3430 or email us at: david@thecomicstop.com with any questions or requests. And we can always be reached on Facebook.
We look forward to seeing you--thank you & be well.
WE ARE ALWAYS BUYING OLDER MARVEL & DC COMICS & MAGIC THE GATHERING CARDS!!

ESTABLISHED IN 1996, THE COMIC STOP HAS A RETAIL STORE LOCATED IN WATERTOWN, MASSACHUSETTS! WE STOCK A LARGE VARIETY OF NEW & VINTAGE COMICS, MAGIC THE GATHERING CARDS & OTHER AWESOME COLLECTIBLES--COME VISIT TODAY!
AND JOIN US EVERY OTHER WEEKEND FOR OUR MAGIC THE GATHERING EVENTS--CHECK OUR "MAGIC TOURNEY" PAGE FOR THE LATEST GATHERING UPDATES!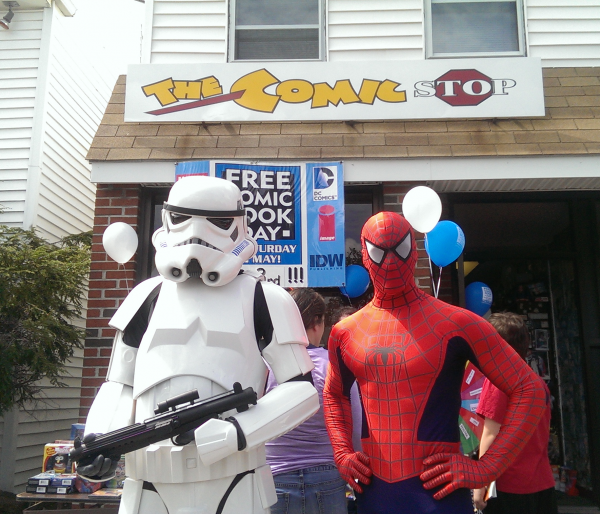 STORE HOURS: TUESDAY, THURSDAY, FRIDAY 11am-6:30pm, WEDNESDAY 11am-7pm, SATURDAY 10-5

PHONE: (617) 926-3430 EMAIL: DAVID@THECOMICSTOP.COM